There seem to be more Ohio government truck sales during the spring than any other time of year. While government auctions can be found on a fairly regular basis, the best time to pick up a reliable used truck is during the late spring and early summer. By understanding what types of government auctions take place in Ohio and how to best take advantage of them, it will be much easier to land a great deal.
The biggest reason that a majority of Ohio government truck sales are during the spring is because that is when the least amount are in use. During the winter months and early spring, a bulk of Ohio's fleet trucks are dealing with inclement weather, especially snow and high winds. This makes it a poor time for trucks to be placed into government auctions. On the other hand, come late spring and early summer a majority of these trucks are no longer being used. It is also the time that new fleet trucks will be purchased. Both of these factors lead to a higher percentage of trucks being available at auction.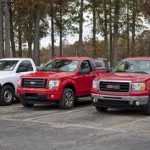 There are several different types of government truck sales that take place in the state of Ohio. The most well-known are probably the federal government fleet auctions. The GSA manages all of the federal government auctions across the country. While they try not to transport vehicles farther than they need to, they do try to make all of the listings across the country fairly similar in terms of numbers. This means that some trucks which were used in Ohio will be shipped off elsewhere. Additionally, the federal government is constantly replacing their fleet, which means that spring will be fairly similar as other times of the year. At the same time, this doesn't mean you should write off federal government auctions during the spring. In fact, because so many people will be focusing on local and state auctions, it could be a great time to spot a reliable used truck at lower than normal prices.
The next most popular type of Ohio government truck sales during the spring are held by the state. In fact, Ohio uses the Department of Administrative Services to oversee all of the auctions that have to do with property owned by the state. In order to streamline the process, they house all of these trucks in one location, which is a warehouse in Columbus Ohio. This means that in order to attend a live auction, you would have to travel to Columbus in order to participate. One thing to keep in mind is that the state of Ohio actually lists their inventory up to a month in advance and allows people to purchase them before the auction at a set price. Unfortunately, these will rarely be good deals, which makes waiting for the auction preferable. Some of the most common trucks that will be found for sale include the Ford Ranger, Dodge Ram, Ford F-Series, GMC Sonoma, and Dodge Dakota.
The final type of auctions are held by County and local governments. These auctions tend to be much more sporadic and are held less often. At the same time, they can offer great prices because some people will overlook them in favor of the state auction. The types of trucks available at these auctions can vary dramatically because sometimes they will also include trucks which were impounded and never reclaimed.
The biggest problem that most people have when trying to find Ohio government truck sales during the spring is keeping track of everything that's going on. Fortunately, online auto auction websites can prove to be extremely valuable tools. The federal and state government both utilize these types of websites in order to provide information to the general public. In many cases, you will be able to bid on a truck directly from the website. With local and county governments, many of them will use these websites although it cannot be guaranteed.
When bidding on a reliable used trucks for sale in Ohio by the government, there are two different setups that you need to be aware of. The first is known as pre-bidding war proxy bidding. With this scenario you will place your maximum bid before the auction begins. There will then be someone at the auction you will place incremental bids for you until your maximum bid is reached. The benefit of this is that you can place bids on multiple vehicles simultaneously and not have to attend the auction. The only potential drawback is that you could end up winning multiple pickup trucks.
The other method of bidding is similar to actually being at the auction. You will get a live feed from the auction and place your bids in real time. The one thing to keep in mind is that some auctions have multiple building blocks, which means you will need to pay attention to several of them simultaneously. At some options, you will only have a camera on one of the auction blocks which can make it difficult to track multiple trucks effectively.