If you have been looking into compact trucks, then you may be wondering why buy a Chevy Colorado pickup truck?  There are a number of reasons that people decide to choose the Colorado over some of its better known competitors  While it may not be the right truck for everyone, it shouldn't be ignored during your search.  Here is a quick look at what the Chevy Colorado has to offer as well as some of the potential drawbacks.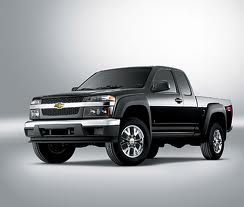 Why Wouldn't You Buy a Chevy Colorado Pickup Truck?
This truck isn't for everyone.  There are certain potential drawbacks that turn some buyers off.  The biggest reason that some people decide not to buy a Chevy Colorado is that the cabin is less luxurious than many of its competitors.  In general, there is a lot more hard plastic and the interior is less stylish than some other compact trucks.  Additionally, some people want a V6.  If that's what you want, then you will need to look elsewhere.  With the Colorado, you will either get a four-cylinder or a V8.  Also, keep in mind that doesn't have the towing or payload capabilities that some other compacts have.
Why Buy a Chevy Colorado Pickup Truck?
The Chevy Colorado is an extremely popular choice for a fleet vehicle.  It is extremely durable and one of the most inexpensive options in its category.  The handling is solid both on and off road.  While it may not have quite the same towing capabilities as some of its competition, it still has more than enough power for the average truck owner.  Plus, the engines have consistently grown over the last half decade.  In short, if you are looking for an inexpensive, durable truck without all of the bells and whistles, then this is the truck for you.  Being one of the few compact trucks competing with lower prices, it is no surprise that it has become more popular over the past few years.
A Quick Look At What The Chevy Colorado Has to Offer
It is important to keep in mind that the Chevy Colorado is still in it's first generation, so the "big changes" haven't happened yet, although a new generation is likely on the horizon.  It was originally created to replace the Chevy S-10 as Chevy's compact truck.
It offers a variety of different cab options including the standard, extended, and crew configurations.  The crew cab has a 5 foot box rather than the 6 foot cargo bed.  There are currently three different engine options available.  They are a 2.9 liter four-cylinder, 3.7 liter five-cylinder, and a 5.3 liter V8.  Aside from the four-cylinder, a four speed automatic transmission is standard.  The 2.9 features a 5 speed (either manual or automatic) transmission. 
In terms of looks, there are two basic options – Work or LT1.  The Word models have less standard features because it is designed specifically to be a fleet vehicle.  If you want a little more comfort, upgraded materials, and a better stereo then the LT1 is the way to go.
Why Buy a Chevy Colorado Pickup Truck in Review
Overall, the Chevy Colorado is a compact truck that was designed for people who are looking for durable, yet inexpensive option.  Most people will get the power and towing capabilities that they need without having to pay extra to upgrade to a full-sized truck.  The work version is ideal for fleet managers, whereas the LT1 tends to be the preferred option for the everyday truck owner.