Buying a used truck seems like a simple proposition.  The problem that a lot of people run into is that they have a general idea about what they want, but don't really know what to look for.  In this quick used truck buying guide, you will learn some simple questions that must be answered in order to buy a high quality used truck that you will be happy with.  All you need to do is get answers to each of these questions and then compare all of the used trucks that you were considering.  By simply knowing what to look for, you can simplify the entire process and reduce the amount of stress that purchasing a used vehicle can create.
Start With Your Personal Preferences
The easiest place to start is with yourself.  There are a number of personal preferences that you can use to automatically eliminate 75% to 90% of the options available on the use truck market.  Start out by deciding if there is a specific automaker that you prefer.  Along the same lines you can take a broader approach and simply decide whether you want to buy a truck that was manufactured domestically or imported.
The next thing to look at is your needs in regards to seating and overall size.  In general, compact trucks are getting much larger, so and extended cab or crew cab compact truck could provide you with enough for.  One thing to keep in mind is that manufacturers have started to use terms like extended cab and crew cab in different ways so it may not need the same thing across brands.
Finally, think about what you'll be using your used trucks for.  A lot of people jump straight to larger trucks because they think that they will need the extra power.  While it may be true that you will need a three-quarter ton truck or full-time truck to effectively serve your purposes, the average person will find that a quarter ton truck is more than adequate.  Pay close attention to how you plan on using your truck because upgrading to more powerful trucks can end up being a significant increase in overall price.  Along the same lines, you need to take a close look at the power provided by the engine.  To nearly identical trucks can offer significantly different levels of towing and hauling abilities based upon how powerful their engine is.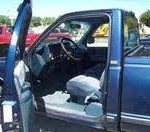 Tips to Determining the Overall Quality
At this point, you should already have a pretty good idea of the type of truck that you want.  At minimum, you should have a good idea about the size and power that you will need.  This means that the next step is looking at some specific indicators that you can use to determine whether or not a specific truck has been taking care of, will be reliable, and is of a high quality.
The first thing that most people do is look at the cosmetics of the use truck.  While there are a number of things you can learn from this, keep in mind that cosmetics don't tell the whole tale.  The first thing you need to do is recognize the "flashy stuff" and move on.  Things like chrome rims and expensive sound systems are great, but they don't do you any good if you get a truck that's not going to run in the next two years.
When looking at the cosmetics, both interior and exterior, try to look for signs of neglect or abuse.  For example, the interior of a truck is going to have your normal wear and tear, but that doesn't mean that there should be discolored plastic or multiple holes in the plastic or seating area.  These are often signs of neglect.  If someone neglects the interior of their truck, there is a high chance that they have also neglected more important issues like regular maintenance.  At the same time, don't rule out a used truck solely because it doesn't look good.  In most cases, you can end up finding high-quality, reliable used trucks with a substantial amount of cosmetic damage.  Fixing this cosmetic damage will be much less expensive than fixing a major problem related to the overall function of the truck.
Once you've taken stock of the cosmetic aspects of the truck, it's time to get into how it actually runs and its overall quality level.  If you don't have much experience with engines or can't really tell if one has been well maintained or not, don't hesitate to have an expert come in and look at it for you.  Even if you have to pay a small fee for their services, this investment can end up saving you tens of thousands of dollars in repairs down the road.
If you simply cannot afford to have someone inspect the truck for you, here are a few quick tips which can give you a lot of information and are easy to implement. 
 The truck should start immediately and without any effort.  If it takes a little time to start, then there could be problems with the fuel injector or ignition.
Look for leaks and damage underneath the truck as well as signs of repairs to previous damage.
Check the brakes, steering components, and driveshaft to ensure that they have been well maintained.
Make sure that the truck is structurally sound by noting any significant rest.  It's not uncommon to find surface rust on areas such as the frame, springs, and axles, but the metal should not be weak or brittle.