Suzuki is definitely not the first manufacturer people think of when start looking for a truck.  The Suzuki Equator has proven to be an excellent value and a great choice for anyone looking for a used truck.  Not only is it affordable, but extremely reliable.  At a glance, the front end is similar to the Nissan Frontier.  The primary differences are tied to the exterior style as well as some of the included features.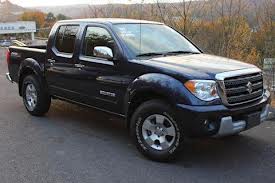 The History of the Suzuki Equator
The Suzuki Equator is a newer release with the inaugural year being 2009.  It has received similar reviews as the rugged Nissan Frontier.  Since there are a lot of similarities this should be no surprise.  Still being a fairly new entry into the used truck market, many people are surprised at how good this truck really is.
Performance
Overall the performance of used Suzuki Equators is consistently rated well.  It is fairly quiet and stable although there is no doubt it is a real truck.  Unlike some competitors, such as the Honda Ridgeline, it isn't designed to feel like a car.  It features a V6 engine with solid acceleration capabilities.  It is also maneuverable enough to navigate tighter canyon roads.  At the same time, there have been some handling concerns although there definitely isn't a consensus.  It has been described as "jittery when turning sharply" by some.
Interior
Overall the used Suzuki Equator has been well-received for its interior.  The materials are easy to clean and maintain.  In total, it is designed with an emphasis on practicality over comfort.  Seating is one area the Suzuki Equator receives constant criticism.  The front bucket seats are comfortable and durable but the rear seats can quickly start to feel cramped.  The over interior is narrow which can make leg room an issue for some passengers as well.
Safety
This used truck has received a barrage of high safety ratings.  The side passenger and side driver safety specs received 5 star ratings.  The front driver, front passenger, and 4×4 rollover all received 4 stars.  The only 3 star safety rating was aimed at 4×2 rollover tests.
Notable Benefits of a Purchasing a Used Suzuki Equator
Excellent in-bed cargo system
The emphasis of practicality is easy to spot with the in-bed cargo system.  This makes it an excellent truck for lighter work and well-suited for weekend warriors.
Spray-in bed liner included as a standard feature
This is a unique feature which isn't a standard across its class.  The spray-in bed liner not only provides maximum protection, but also further enhances its durability and reliability.
Practical interior design
The Suzuki Equator's interior design makes it an ideal solution as work truck.  At the same time, it offers a variety of built-in functionalities which are useful for day-to-day traveling. 
The final stand-out benefit is its pricing on the used truck market.  In the beginning, the Suzuki Equator didn't hold its value well on the secondary market.  This is a huge benefit for used truck buyers.  This is likely because there is not a huge market demand compared to better known manufacturers. 
Potential Drawbacks of a Used Suzuki Equator
For some people, the overall level of noise can be a little excessive.  This isn't a drawback which everyone agrees with, but it is important to keep in mind.  This is particularly important to remember if it will be going on a lot of really long drives.
Rear Seating is Cramped for Adults
While the interior is praised for its practicality, the rear seating is an area of contention.  There is not enough space to comfortably seat multiple adults.
Handling Can be Questionable
It is unclear if this characteristic is true of all Suzuki Equators but the handling is questionable at times.  With each passing year this has become less of a problem, but it is important to keep in mind.  At the same time, the handling is not so problematic as to limit its overall utility.
Overall
Overall the used Suzuki Equator is a quality used truck, especially considering how inexpensive it can be.  Anyone who likes the Nissan Frontier but wants to save a few dollars should strongly consider getting a used Suzuki Equator.