Of all of the GMC trucks on the road, the Canyon may be the most overlooked.  One of the primary reasons for this is that the Canyon is the corporate twin of the Chevrolet Colorado, which is much more well-known and offers nearly identical attributes.  This can end up being a huge bonus for truck buyers because the Canyon tends to not retain its value on the secondary market as well, solely because it lacks the same brand recognition and loyalty as the Chevrolet Colorado.  Here's a quick GMC Canyon pickup truck review to give you a better idea of exactly what it has to offer.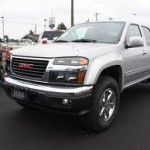 The GMC Canyon was originally launched in 2004 as a replacement for the GMC Sonoma.  It quickly proved ideal for truck buyers who don't need the towing and hauling capabilities of a full-size truck because it proved to be much more maneuverable and fuel-efficient.  For example, if you need a truck, but will use it primarily for commuting purposes then the Canyon is the type of truck that would fit your needs.  At the same time, it was designed with a square jaw and broad frame to give a larger appearance, while maintaining easy maneuverability.
When the GMC Canyon was launched it featured a 175 hp, 2.8 L inline four cylinder engine as well as a 220 hp, 3.5 L inline-5.  In 2006, the ZQ8 edition featured a lower spore suspension for even smoother driving.  In 2007, the engine receive a much-needed boost in power and in 2009 the V8 engine was introduced.  Currently, there are three configurations available with the GMC Canyon: crew cab, standard, and the extended cab.
The sales figures for the GMC Canyon peaked in 2005 when it was featured in the campaign advertisements for US Senate candidate Scott Brown.  Since this year was the highest in total sales of GMC Canyon's, the 2005 model year tends to be the most cost-effective on the secondary market.  Not only are the prices incredibly low, but they are still new enough to have a lot of life left in them when purchased.
On the secondary market, you can often find a GMC Canyon for less than $10,000 up to the 2007 model year.  The largest chunk is between the years 2005 and 2006, which makes 2005 the ideal target for use truck buyers.  There was also a big jump between 2007 and 2008 because that is when a new engine was introduced which provided a greater towing and hauling capability.
Overall, the GMC Canyon has proven to be a solid option, especially in terms of value on the secondary truck market.  While it may not meet the needs of people who require the towing and hauling capabilities of a full-time truck, it provides more than enough room for the daily commuter.