There seems to consistently be Ford F Series truck bargains in Canada.  It has become common practice for some people to purchase their truck in Canada and then imported into the United States.  In most cases, there is rarely if ever any problems, however this isn't always the case.  When importing a Ford F Series truck into the United States there are three government agencies that you will need to deal with.  They are the EPA, DOT, and the US Customs Service.  Here is a closer look at the primary issues that you will need to consider for the requirements issued by each of these agencies.  This should give you a better understanding of how the entire process will work.  Keep in mind that in some cases even though you find Ford F Series truck bargains in Canada, once you as in shipping and any other expenses, the overall price could be similar to that of purchasing them directly in the United States. 
EPA Requirements
Of the first things to look for when you spot Ford F Series truck bargains in Canada is that it has passed its emissions test.  If you purchase a new truck, then as long as you have the EPA certificate of conformity and an EPA emission control label, then you will be fine.  All of these are found inside of the truck, normally on a sticker which is placed on your driver-side door.  However, most of the Ford F Series truck bargains in Canada will be on used trucks.  In order to import a used Ford from Canada into the United States you must fill out an EPA importation declaration form and submitted to Customs during the vehicle inspection.  In most cases, if you purchased a used Ford then you will need to import the truck through an independent commercial importer or ICI.  They will then complete the EPA tests and certifications for you.
Department of Transportation Requirements
Any vehicles that are not more than 25 years old must meet a variety of DOT safety standards and bumper standards.  In most cases, the paperwork required will not be available if you purchase a used truck in Canada.  When this is the case, you will need to use a DOT Registered Importer or RI.  They will make all of the necessary modifications that are needed to ensure that your truck conforms with current safety standards.  The RI contract will then be attached to the importation form to ensure that it makes it through customs.  If any modifications need to be made to the trucks you buy, it will likely be related to changing the speedometer.  Many Ford trucks which were manufactured specifically for sale in Canada will have a speedometer that only provides your speed in terms of KPH instead of MPH.  Other than that, there will likely not be any other problems because the Ford trucks are similarly manufactured whether they are in tend to be sold in the United States working with.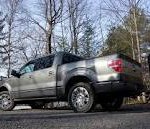 US Customs Requirements
In order to clear customs, you will need to include the shippers or carriers original bill of lading, Bill of sale, and any other documents related to the vehicles such as the Canadian registration information.  One benefit to using an ICI is that they can take care of all of these issues for you as well as pickup your truck from Customs for you.
More Tips About Importing Ford F Series Truck Bargains From Canada
The Department of Agriculture requires that the undercarriage of your vehicle must be free from foreign soil in order to be imported.  The easiest way to handle this is to have your Ford F Series truck steam sprayed before shipment.
Make sure that there are no personal belongings in your truck when it is being shipped because if the entire contents of your vehicle is not declared upon entry, the personal items could be seized or you could incur a fine.
Most Canadian manufactured trucks do not have any duty taxes for you to pay when shipping them into the United States from Canada.
Make sure that that you get a temporary or permanent license plates before you drive your Ford F Series in the United States.